Every teacher should work to move students from consumers of digital content to creators of digital content. This step is not as difficult as one would think, especially if students are creating simple
math
or
language videos
. When your students are ready for the next challenge, you can take advantage of YouTube's annotation system to make interactive games or stories. For example, my third grade students put together these episodes of the "homophone game" (must be played on a computer, not mobile):
Games like this require time to create, but they are the perfect project for eager students who tend to finish other activities quickly. Students could take YouTube games in multiple directions, but let's start by focusing specifically on how we produced episodes of the "homophone game". My students used four applications:
PicCollage on the iPad (any slide-preparing app would work)
Doodlecast on the iPad (another screen-casting app would work)
YouTube Annotations
YouTube Audio (optional but recommended)
Step One – Create the Plan
Instead of breaking out the technology right away, we started with pencil and paper. Students
chose a homophone, then created six or more sentences using the different versions of the homophone. We kept the best 4-5 sentences for the game.
Step Two – Create the Slides
Using the application PicCollage, students created colorful slides to illustrate their sentences. We
used clear and simple slides for the example sentences (solid-color background, easy-to-read font), and they could do whatever they wanted to the "wrong answer" and "correct" slides. To make the game, we needed:
A Title Slide
An Explanation Slide
4-5 Sentence Slides
A Correct Answer Slide
A Wrong Answer Slide
Step Three – Create the Videos
Using DoodleCast pro, we made 6-7 short videos for each game. The breakdown:
An introduction/explanation video with the first sentence (about 1 minute long)
3-4 "right answer" + next question videos (about 30 seconds)
A wrong answer video (about 15 seconds)
A finishing video (15-30 seconds)
The best way to get a sense of these is to play the game. We usually waited until the end to create the introduction/explanation, since it had to be the longest and most polished. Also, having learned a lesson from hundreds of previously published student videos, I created a shared YouTube account for students to publish (so I don't have to log in to my account every time).
Step Four – Link the Videos with Annotations
Although I've had success with students using YouTube Annotations in the past, this was the first time I've had them link videos together. It's probably the most technically intimidating aspect of the project, but 8 year olds pulled it off without too many problems. This video explains exactly how to do it: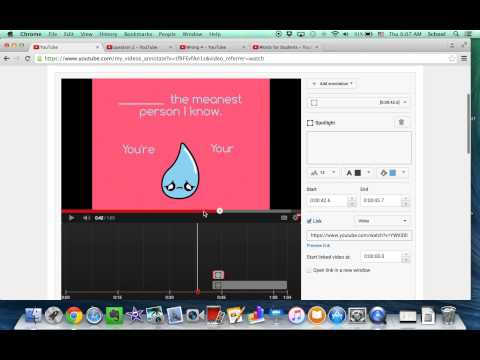 Step Five – Add Music
Technically this step is optional, but I think the music adds a lot to the game experience and energy of the videos. I've written a post about how to use YouTube Audio, or again, just watch this video: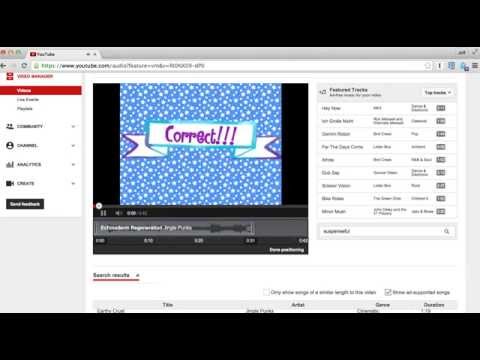 Step Six – Share and Have Fun
It may seem like a long and complicated process for a 5 minute game, but the students love making them, and they are fun to play as well. I'd love to get other students playing these and creating videos of their own, so please comment if you've shared these with your students or if they've made one of their own. And as always, please let me know if you have any questions about the process.