Like many elementary teachers, I assign independent reading as part of my students' daily homework routine. We keep this simple — no summaries, no book reports — just choose a book, read for at least 20 minutes, and record the title and author. Ideally, this log of books serves as a launching pad for conversations about different stories, genres, and authors. In practice, however, it's difficult to find time during class each week to go over the reading logs and check in with each student individually. When it happens, if it happens, it's often rushed.
To counter these problems, my students have moved their reading logs to the cloud with Google Drive. Now that my class has started with Google Apps, I was able to set up a class reading log in less than 10 minutes. Here's a quick tutorial I put together to show the steps: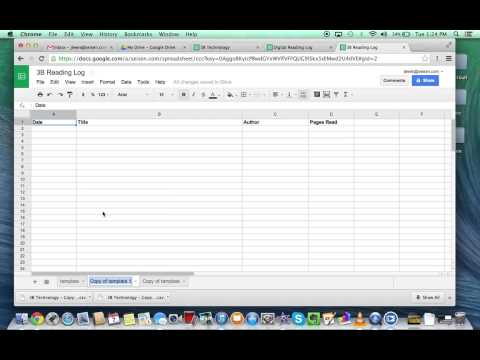 As soon as your students enter a few books, it will look like this:
To add comments or questions about your students' books, select a cell and click the comment button in the upper right side (or select Insert –> Comment).
So far I've kept my comments and questions simple — I don't think a spreadsheet is the place for deep conversations — but I've been able to communicate with my students about their book choices with more regularity than before. Students are also able to make comments to each other. I haven't promoted this feature yet, but it's already happening.
There are other options for children to share what they are reading. Some classes at my school are into BiblioNasium, which is like Goodreads for kids. I can see advantages to a website like this, but right now, Google Drive is the simplest choice for my class.